---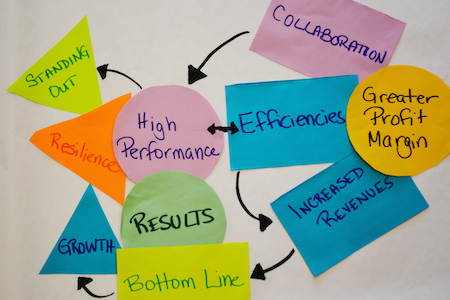 TeamScaping gives your organization the ability to continually increase efficiency and profitability by connecting its purpose to a team's everyday work.
What is TeamScaping?
TeamScaping is a unique system that connects an organization's vision and goals and a team's everyday work by defining purpose, outlining goals and creating a plan to reach those goals.
Created by facilitator Margo Purcell after years of helping teams focus on working well together, TeamScaping is a completely customizable process designed to build thriving, energized and resilient teams and organizations.
The TeamScaping framework has helped groups:
understand and successfully navigate change in their organization;
review and debrief a large project;
reconnect after a major reorganization;
build a more cohesive team; and,
position themselves for growth.
How it works
With the guidance of a knowledgeable and educated facilitator, each of the four sessions focuses on:
Building capacity to operate effectively in times of uncertainty;
Increasing profitability;
Increasing efficiency and productivity;
Increasing accountability within teams and leaders;
Building and strengthening leadership across the team and at all levels of the organization;
Deepening engagement and commitment throughout the team and organization;
Enhancing organizational integrity;
Ensuring corporate values are being lived in the team and through their work.
At the end of the sessions teams have a concrete plan of action to guide the next six to twelve months.
Why it works
A framework unlike any other, TeamScaping:
makes abstract strategic planning concrete and relatable;
focuses teams on achieving business goals;
can help teams manage change;
is suitable for large and small teams;
provides a team with a concrete plan of action;
is completely customizable;
is supported by the proven Lumina Learning psychometric tools;
moves a team from what we do to how we want to work;
is an investment in a team, and a way to keep team members energized and motivated.