---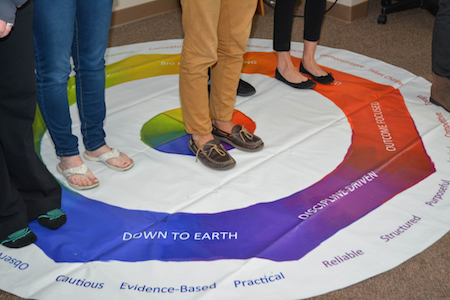 TeamScaping is a systems-based approach for increasing profitability, efficiency, productivity and accountability.
FOUR SESSION INTENSIVE
TeamScaping is divided into four unique learning experiences for your team. The Introduction to TeamScaping session stands on its own as a complete experience that delivers high value. Learning and application can be taken wider and deeper in the organization with further levels, phases and sessions.
Session One:

Introduction

The one-day Introduction to TeamScaping session introduces the principles, practices and essential elements of TeamScaping. Through interactive and experiential exercises, participants will learn how to apply TeamScaping to better understand and map the immediate and greater landscape in which they are operating.
Outcomes
Learn multi-use framework
Identify areas, projects and initiatives where framework and concepts can be applied in both short-term and long-term
Capture and understand touchpoints, overlap and resulting challenges and opportunities within organization
Capture areas of uncertainty within the organization and external to the organization
Action plan for quick-win applications
Session Two:

Soil Assessment

The one-day Soil Assessment session builds on the work done in Introduction to TeamScaping. Through an interactive assessment game, participants will develop a deep understanding of the purpose and function of organizational soil. Participants identify the conditions necessary for success and develop an action plan to cultivate those conditions.
Outcomes
Identify conditions needed to achieve desired results
Assess current conditions within team and organization
Learn and apply a tool to help anticipate and prevent resource drains
Learn strategies to create fertile conditions that build organizational resilience
Action plan for enhancing conditions for success
Session Three:

Digging In

The foundation is in place and the conditions have been set, it is now time to comprehensively dig in. Spend two days designing and preparing to implement high level strategies and detailed tactics adapted to the conditions and terrain of the organizational landscape.
Outcomes
Plan for the successful application of TeamScaping
Generate accountability within the team and organization
Identify areas for improvement and efficiencies
Develop an action plan to gain efficiencies and increase profitability
Identify skills, knowledge and resources needed
Session Four:

Digging Deeper

The one-day Digging Deeper session encapsulates all of the learning over the previous sessions and creates the space to take the learning and application of TeamScaping® even deeper into the organization. The morning covers building organizational resilience and leading change. The afternoon is comprised of one to two learning modules of the organization's choice based on learning needs and priorities determined in the previous sessions.
Outcomes
Action plan to enhance and deepen the application of TeamScaping
Gain fluency in practicing TeamScaping and enhance the cycles of accountability in new and increasingly impactful ways
Uncover new areas for improvement and new opportunities to innovate
Develop the ability to identify previously untapped skills, knowledge, and resources to create new scales of effectiveness and profitability